Community Today interview aired on 10/19 & 10/20 on AM1380, AM710, FM103.9, & FM105.5 (click on10-15-19 podcast, move the purple podcast curser to 2:01:53to hear the interview)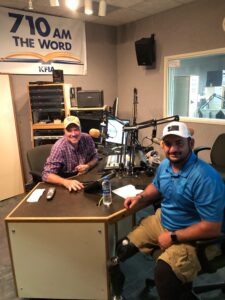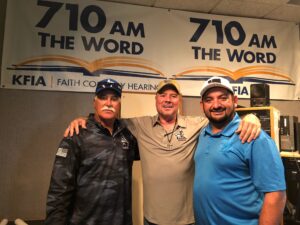 He is retired Army Sgt Matthew Sullivan having fun in the Nevada desert.
MATT SULLIVAN  grew up in the Southern California desert town of El Centro. His military career started in October 1996 enlisting in the U.S. Coast Guard. Opting to get out of the Coast after his daughter was born he later joined the U.S. Army in August of 2008. Now assigned to the 82nd Airborne Division he was deployed to Afghanistan in September of 2009. Just days left in his deployement, this soldier was severly injured. On August 25th, 2010, he was was the last of a handful of men from his company waiting to get airlifted from his Forward Operating Base. After waiting days and bad weather they moved by foot patrol to another FOB. Unfortunately he had no idea that this foot patrol would change the course of his career and his life. The point soldier at the front of the patrol clearing their path missed two IEDs and unfortunately he found one of them.Spending weeks at Walter Reed he was then transferred to Naval Medical Center San Diego so that I could be near my family.. In November of 2011, after 7 surgeries and countless hours of physical therapy, he lost his foot. 
Click the links below to view the video fun!
On Sunday, September 15th 2019, an additional check was presented to Patriots Honor Staff to assist two combat injured veterans, Retired Marine Staff Sergeant Mark Zambon and Retired Army Specialist Geoffrey Quevedo.
This year the Lake Wildwood Community along with Patriots Honor Organization hosted the 6th Annual Injured Veterans Golf Tournament on Wednesday, 24 July 2019 held at the beautiful Lake Wildwood Golf Course, Penn Valley, California. Each event we showcase one of our nations hero's and is honored during the event as our Patriots Honor Star Recipient. This years Lake Wildwood Star Recipient is Retired Marine Staff Sergeant Mark Zambon. After 2 deployments to Iraq in 2004/2005 as a Logistics Marine, he reported to the 1st Explosive Ordinance Company disposing over 200 bombs during his deployments. Earning 2 Purple Hearts, SSgt. Zambon was injured in two separate explosions losing finger joints and both his legs above the knee. SSgt. Zambon was the first bilateral amputee to remain in the Marines and instruct at the Naval School Explosive Ordinance Disposal.
Our goal for this year's tournament was to generate enough donations to provide Mark a scholarship to finish his Doctorate degree in Psychology at Santa Barbara Pacifica University. This scholarship will be presented to Mark at this year's Lincoln Hills Injured Veteran Golf Tournament on October 25th 2019.
Since Patriots Honor received additional proceeds, this will assist yet another combat injured veteran at the Lincoln Hills Patriots Honor Tournament on October 25th 2019.
On November 30th, 2011 was the day that would change this year's Patriots Honor Lincoln Star Recipient, Retired Army Specialist Geoffrey Quevedo's life forever. During Geoffrey's first deployment he and his fellow soldier served as EOD Mine Sweepers. He and his partner were clearing a compound in an alley when an I.E.D exploded after his partner tried to uncover it. His partner lost both his legs above and below the knee and remained conscious throughout the experience. The blast hit part of our recipients face and body and immediately lost consciousness. As a result he lost his left arm and leg, broke his jaw and nose in numerous places and lost four front teeth with the bone and gum tissue. He has a permanent blind spot on his left eye and continues to have multiple shrapnel damage throughout his body.
In addition the Lake Wildwood Injured Veteran Golf Tournament also graciously donated brand new Patriots Honor themed Sierra E-Bikes at this years Lake Wildwood event. Mr. Dion Reif and the Sierra E-Bike family were in attendance during the event banquet and surprised us all with even a greater gift. He personally donated a brand new Patriots Honor E-Bike to all four combat injured veterans attending the awards banquet. Two of the E-Bikes were presented at his shop in Penn Valley to Retired Marine Corporal Joshua Hotaling and Retired Army Staff Sergeant Alex Jauregui just months ago. During this years banquet Dion and the Sierra E-Bikes family presented the other two E-Bikes to Retired Army Sergeant First Class Jake Keesler and Retired Army Specialist Geoffrey Quevedo.
On behalf of Patriots Honor we cannot thank the Lake Wildwood Injured Golf Tournament, community and Mr. Dion Reif enough for their generosity and the wonderful gifts they provided to our combat injured veterans.
This years Trump National Star Recipient is California native Retired Army Specialist Gustavo Zarate. On May 19, 2012, during his first deployment to Afghanistan with the Echo Company, 307th BSB, 1st BCT, 82nd Airborne Division, Gustavo was critically injured during an Improvised Explosive Device (IED) attack. This one explosion would radically change the life of our Star Recipient forever. Gustavo sustained such Traumatic Body, Head and Brain injuries he wasn't expected to live. From that point on, he slowly began to regain function and is now able to walk with assistance.  Though Gustavo has made significant progress, he still has not regained his ability to speak.
Gustavo has two passions in life, astronomy and fishing. Through your sponsorship and generosity you have helped Patriots Honor fulfill Gustavo's dream of fishing. With your help, we surprised Gustavo and his family with a 2019 Tracker Bass Boat making his dreams of fishing in those lakes of California a reality.
Additionally, two other combat injured veterans and Patriots Honor Star recipients were honored at this year's tournament. Retired Army Sgt First Class Jake Keeslar and Retired Army Specialist Geoffrey Quevedo. Both were presented with Sierra E-Bikes and were honored at the award banquet.
On behalf of the entire Patriots Honor Organization, Combat Injured Veterans around the world and the Gustavo family, we express our sincere thanks and gratitude to all our sponsors, volunteers and all in attendance during our tournament this year.
Burning Barrel Brewing Company Donation
Burning Barrel Brewing Company for the past year has provided Company and Patriots Honor Organization logo T-Shirt sales raising over $3200 directly for our Combat injured veteran Retired Marine Staff Sergeant Mark Zambon.
This years Star Recipient is Retired Marine Staff Sergeant Mark Zambon. Mark was injured twice during his 5 deployments to Iraq and Afghanistan which resulted the loss of his legs and fingers. Money raised by the Burning Barrel Brewing Co. will help provide a Patriots Honor Scholarship to Mark to complete his Doctorate Degree in Psycology at Santa Barbara Pacifica University.