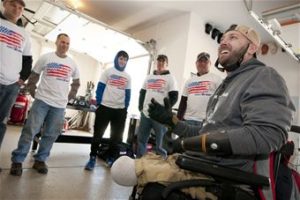 Adam was born in Halifax, Nova Scotia and lived there until 1998 until the age of thirteen. He has one sister, Courtney. Adam was a member of the Boy Scouts and Air Cadets and attended his first boot camp with Air Cadets at Greenwood Base in Nova Scotia. He participated in soccer and was on a summer competitive swim team, the Bedford Beavers. His first year of Air Cadets he received the award for Outstanding Cadet and also received various medals for his swimming. He loved to go fishing and his father would often take him and his sister on overnight fishing trips. He enjoys all sports but, of course, in Canada he and his father went to many hockey games. Adams father job transferred them to Whitehall, Pennsylvania in 1998 and there is where Adam started 9th grade at Whitehall High School and a proud graduate in 2002. He was on the soccer team, swim team and football team. His father, Stephen, took him to his first NFL game and there is where he became a New York Jets fan as well as the Philadelphia Flyers and the Phillies.
While living in Pennsylvania, Adam joined Civil Air Patrol and attended summer boot camp at Indiantown Gap. Always wanting to be in the military, his grandfather was in the Canadian Navy and three uncles all serving in the military. After High School Adam worked and owned several jobs and businesses however he decided it was time to join the U.S, Army and entered Fort Leonardwood, Mo. in September 2008. Finishing boot camp in November 2008 Adam stayed and finished his AIT training, then transferred to Fort Benning, Ga. for Airborne Jump School. After receiving his Jump Wings he was permanently stationed to Fort Bragg as a combat engineer. He was deployed from Fort Bragg to Afghanistan in December 2009 and was there until his injury.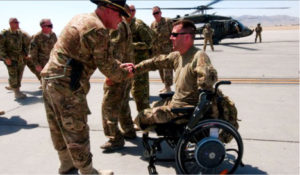 On July 14, 2010, Adam along with his fellow soldiers was attacked in an armored vehicle when they were hit with 1000 lbs IED. That day there were 5 Soldiers in their vehicle, Adam was the only survivor. One of the other soldiers with him that day was Spc Jesse Reed. Adam met Jesse immediately upon his move to Whitehall High School, Pa. and instantly became best friends. Graduating then working together after school eventually led to both enlisting in the Army together. Jesse left for boot camp in May 2008 and Adam in September 2008. They followed the same path through boot camp, job training and eventually both stationed at Fort Bragg. Receiving orders to deploy to Afghanistan, naturally they became roommates and brethren soldiers. Initially families received word about Jesse being killed in action through his family, the next day received word from the Army; Adam had been critically injured. Adam's injuries were critical but stable, enduring numerous broken bones, an eye injury and a severe brain injury. He was treated at Khandar, Bagram Air Force Base, Langstul Base in Germany and then flown to Walter Reed Hospital arriving stateside on July 20, 2010.
15 days in the Walter Reed ICU, Adam endured and fought serious infections which led to many complications. With his condition worsening he was given a 1% chance of surviving. The infection attacked his body which was already in a weakened state and eventually led to severe skin problems, liver and kidney failure and the amputation of his left hand, right leg above the knee and left leg below the knee. It was suggested at this time that Adam be transferred to Texas, to Brooke Army Medical Center, however too sick Adam could not make a trip of that distance. He was transferred to R Adams Cowley Shock Trauma Center in Baltimore, Maryland in August 2010 until he was released in January 2011. The Shock Trauma Center Soft Tissue Team did extensive skin grafting, wound care and treated other medical issues. Adam was in a coma for a month and during his time at Shock Trauma had brief periods of wakefulness but was not aware of his surroundings. Transferring from ICU to a step down unit he continued with surgeries twice a week and was finally released back to Walter Reed Hospital and then transferred once again to Brooke Army Medical Center in Texas for wound care then back to the new Walter Reed Medical Center at Bethesda, Maryland on October 2012. He was released to outpatient in Nov 2011 and he now resides at the building for wounded warriors on the post of Walter Reed. His daily routine now is to go to physical therapy in the morning Monday to Friday while seeing doctors for appointments in the afternoon. He is doing very well and he took his first steps on his prosthetics the first week in January 2012. Since then he has been working very hard and can now walk with the aid of a walker or canes.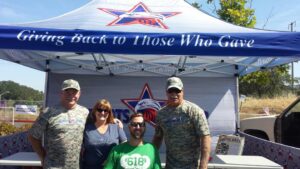 He had two immediate goals (one to jump out of a plane again and the other to lead the run up to Long Street at Fort Bragg). Both of these he accomplished in March 2012 when he went back to Fort Bragg for the first time since his injury. He jumped in tandem with the Golden Knights and he led the run in his wheelchair. In September of 2012 he participated in The Tunnel to Towers 5k run in New York and was able to walk about ¾ of the race.
In November of 2012 he had additional surgery on his left leg. The knee had not been able to bend since the injury and the doctors were unable to get any range of motion and therefore the amputation was revised to through the knee. Refitted for new prosthetics in March 2013 he also had to undergo reconstructive abdominal surgery to regain core muscles in October 2014. Persistent, he continued physical therapy and can now walks unaided on his prosthetics. In addition he swims and hand cycles; completing the 2015 Boston Marathon. Adam's dream was to join the military and he fulfilled that dream. He has no regrets. His positive attitude is what inspired him to get through the past 5 years. That inspiration has provided guidance to many other injured veterans as well as Patriots Honor Organization.
Adam's goals for the future are to swim, play sports, enjoy hobbies and lead a regular life. Today, he is concentrating on getting healthy and walking. Keys served as an airborne combat engineer with the 20th Engineer Brigade, and before his accident he enjoyed spending his time building RC model cars, tinkering with tools and wood working. Since July 10, 2010 however, Keys' days have been full of surgeries, doctor appointments and therapy sessions, leaving no time for building RC cars.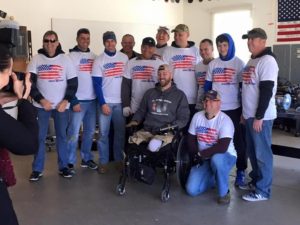 On February 27, 2016, Patriots Honor purchased Keys two steel worktables, top-of-the-line toolboxes, dozens of high quality tool sets and a $1,000 gift card to an online model-car store to buy parts for his RC cars.
"This is absolutely great," he said beaming. "These guys coming out to help are amazing. I'm humbled, grateful and will probably never leave my garage."
"There are amazing organizations out there that help wounded vets with houses and finances, but there was nothing to help these guys get back to doing what they love," said Lt. Col. David Lineback, an instructor at the Joint Forces Staff College and a member on the Patriots Honor Board of Directors. "Patriots Honor provides Adam and others with the resources to continue their hobbies and passion, and ultimately help rehabilitation as they integrate back into civilian life."