Retired SGT Brian Jergens joined the army as a 68W Combat Medic in March of 2007. After serving for three years at Ft. Myer, VA in the "Old Guard," the Army's official ceremonial unit and escort to the president, Brian received orders to Ft. Riley Kansas, home of the "Big Red One."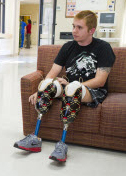 On August 7, 2011, eight months into his first deployment in support of Operation Enduring Freedom, Brian was critically injured by an IED. Brian spent the next several years recovering from his severe TBI and learning how to walk again on his prosthetic legs. After enduring various surgeries over the years, Brian is as fit as ever and loves spending time outdoors chasing his children. Now that his rehab is complete, Brian aspires to live life to the fullest and enjoy every minute.
Brian lives in Northern California with his wife Jennifer and their 3 children.