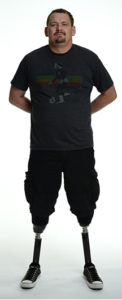 Noah Bailey, a Nevada County, California native, enlisted in the Army in 2003 and served with the 173rd Airborne Brigade in a scout sniper platoon as a gunner and designated marksman. In late 2005, in the Zabul province of Afghanistan, Noah suffered severe injuries when the lead vehicle he was gunning took a direct hit from an IED explosion, claiming both of his legs below the knee. After a year of rehabilitation at Walter Reed Army Medical Center in Bethesda, MD and medical separation from the military in 2006, Noah went home to Grass Valley and became the assistant manager of a local small engine repair shop.
In 2012, he enrolled as an engineering student at Las Positas College and is currently in his second year of studies. His ultimate goal is to enter the field of prosthetic research and design. In his spare time, Noah enjoys wood-working with fellow veterans, participating in Paralympic Games, and shooting long-range rifles competitively, earning seven bronze and silver medals at regional and national competitions. Noah currently lives in Grass Valley California.
On April 3, 2016, Patriots Honor presented Noah with his rebuilt Dodge truck at Beale AFB. All of Tanker Operations and Aircraft Maintenance at Beale AFB proudly surprised him in Hanger Dock 6. Many more were in attendance along with our Wing and Squadron Commanders.